920-849-8329 or 800-545-9911
Radon is a chemical element with the symbol Rn and atomic number 86. It is a radioactive, colorless, odorless, tasteless noble gas, occurring naturally as a decay product of radium.
Radon is one of the densest substances that remains a gas under normal conditions. It is also the only gas under normal conditions that only has radioactive isotopes, and is considered a health hazard due to its radioactivity.
Radon is gaseous and easily inhaled. Naturally-occurring radon is responsible for the majority of the public exposure to ionizing radiation. It is often the single largest contributor to an individual's background radiation dose, and is the most variable from location to location. Despite its short lifetime, some radon gas from natural sources can accumulate to far higher than normal concentrations in buildings, especially in low areas such as basements and crawl spaces due to its density.
Studies have shown a clear link between breathing high concentrations of radon and increased chance of lung cancer. Thus, radon is considered a significant contaminant that affects indoor air quality worldwide. According to the United States Environmental Protection Agency, radon is the second most frequent cause of lung cancer, after cigarette smoking, causing 21,000 lung cancer deaths per year in the United States. About 2,900 of these deaths occur among people who have never smoked. While radon is the second most frequent cause of lung cancer, it is the number one cause among non-smokers, according to EPA estimates.
Protect Your Home from Radon
Have your home tested. Testing for radon in the air is accomplished using passive or active devices placed in the building. Some devices are promptly sent to a laboratory for analysis (Picture 1), others calculate the results on-site (Picture 2). Radon-in-water testing requires a water sample being sent to a laboratory.
(Picture 1)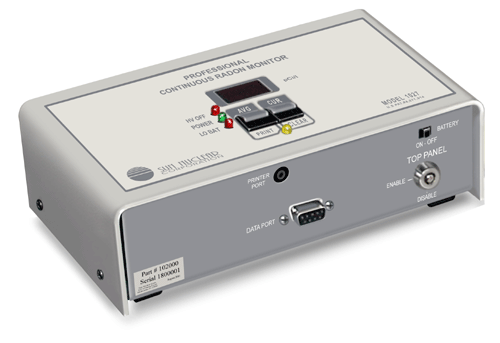 (Picture 2)
For More Information From the US EPA Click

Here